Ovialand, Inc. (OLI) is a real estate mass housing company with developments
focused in the region of Southern Luzon, Philippines.
OLI is the leading developer offering Premium Affordable house and lot
products in the country.
OLI is committed to bring the Premier Family Living experience throughout the
home-buying process.
Premier Family Living has 3 pillars:

PREMIER HOMES
Each home is made of solid concrete fully finished with quality materials, built by skilled workers. We assure quality in every home we build.

PREMIER SERVICE
A Personal Account Officer is dedicated to assist you with your needs. Ovialand also offers hassle-free loan applications and low downpayment deals to help you settle in easily and conveniently in as fast as 6 months!

PREMIER COMMUNITIES
With Ovialand, you are assured to have your new home nested in a safe, secure, and peaceful neighborhood. Each development offers family-centered amenities and reliable utilities such as water, electricity, and internet.
OUR COMPANY
Ovialand, Inc., (OLI) is an emerging mass housing developer with a solid track record in delivering quality house and lot units in the Southern Luzon area of the Philippines. Since its' inception in 2014, OLI has completed and turned over more than 1,000 housing units to its satisfied clients with almost 3,000 units more in the pipeline for the next 5 years.
By 2030, mass-housing will comprise of 80% of the total real estate demand of the Philippines, currently estimated at 6.8 million units. Ovialand is focused on serving this continuously growing aspirational market by making sure that their product range remains first-rate at all times.
Ovialand's proprietary pre-cast methodology allows it's building capacity to complete anywhere between 30-60 housing units per month, per development. Together with its' housing finance partners, Ovialand's clients can move into their brand new homes within 60-90 days (depending on inventory availability). While Ovialand is continuously increasing its housing production capacity, they make sure that quality remains priority at all times.
Ovialand is working towards become a national real-estate developer, inching its way one region at a time. By 2023, Ovialand will begin its developments in the region of Northern Metro Manila and Central Luzon. By 2030, Ovialand will have presence in Luzon, Visayas and Mindanao.
Ovialand is committed to the Premier Family Living ® promise for all its clients. Beautiful homes in masterplanned communities, capped off with attention to service is unique to Ovialand, and its growing market base can attest to this.
OVIALAND PRE-CAST METHODOLOGY
PREMIER FAMILY LIVING
PREMIER COMMUNITIES
PREMIER SERVICE
ANNUAL CORPORATE GOVERNANCE REPORT (ACGR) 
Board Commitees
BOARD OF DIRECTORS
GIOVANNI J. OLIVARES

Chairman


Mr. Olivares has amassed over 35 years of experience in the Philippine affordable real estate business. He established Ovialand, Inc in 2015 to answer the evolving needs of the Filipino family.
MARIE LEONORE FATIMA O. VITAL

Director


Pammy has 15 years in-depth experience in affordable and low-cost housing in the Philippines. She is also a pro-active and hands on leader providing entrepreneurial spirit and innovation with focus on value-addition to product and customer experience.
THERESE MARIE V. OLIVARES

Director

NANETTE V. OLIVARES

Director

PAOLO GIOVANNI V OLIVARES

Director

GAUDENCIO HERNANDEZ

Independent Director

VICTORIO VALLEDOR

Independent Director

Januario Jesus Gregorio B. Atencio III

Director

SENIOR MANAGEMENT
JOHN BRYAN VITAL

Chief Finance Officer & Investor Relations

ENGR. REYNALDO ABRENCILLO

Business Development Head

MICHELLE PUA

Sales Head

JELANE MALABANAN

Client Services Group Head

JHENNIFER AMANTE

Project Revenue Group Head

ENGR. JOSEPH OABEL

Ovialand Casting Group Manager

MARIZ MUDLONG

Finance Manager

ENGR. JERICHO SAMANIEGO

Construction Management Head

corporate social responsibility
Scholarship grants
Tree Planting
Outreach program
Feeding program
Enterprise risk management
Minutes of all General or Special Stockholders' Meetings
Other Disclosures to SEC, PSE and Other Pertinent Agencies
ABOUT

MODEL UNIT

LOCATION

PRICE RANGE
The City of San Pablo is modern and developed, but it has not forgotten its culture and tradition. The city has blended new buildings and updated infrastructure, but has not forgotten its old world charm. Savana San Pablo pays tribute to the old world beauty, blended seamlessly with style and class.
The highlight of Savana is its 2-storey Clubhouse combined with a commercial area that will truly make Savana the most sought after and prestigious development in San Pablo City.
Manor (Townhouse)
Mansion (Twin)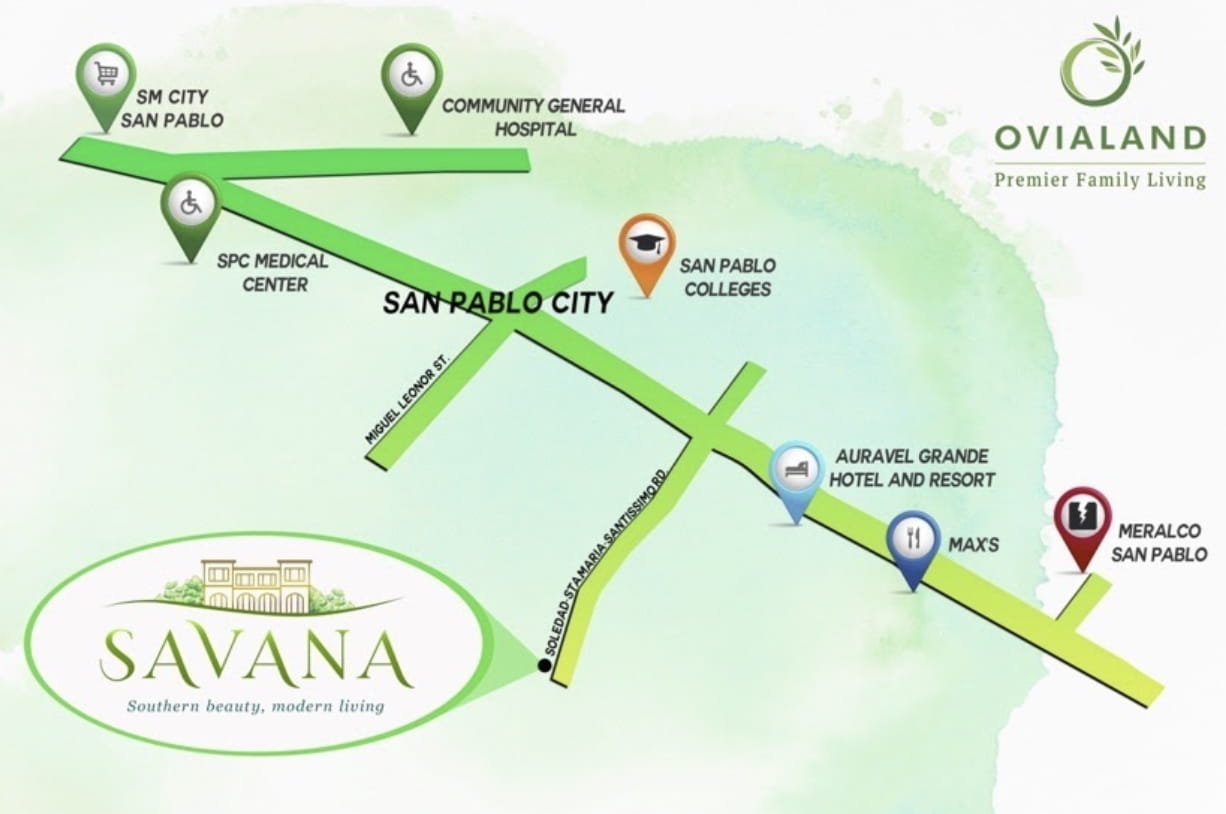 Purok 1 Brgy. Soledad San Pablo City, Laguna
| | |
| --- | --- |
| Unit Type | Price Range |
| Manor (Townhouse) | ₱ 2.3M |
| Mansion (Twin) | ₱ 2.8M |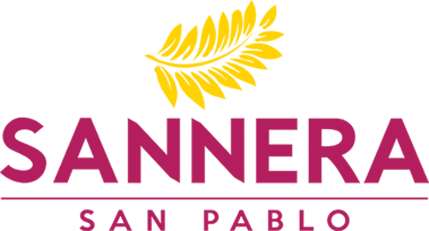 ABOUT

MODEL UNIT

LOCATION

PRICE RANGE
Sannera San Pablo is a resort-inspired community. It promotes radiance of relaxation from the hustle and bustle of the city and provides comfort from the stress of the metro.
Exclusive amenities await the residents of Sannera San Pablo. A 200 sqm swimming pool, jogging and fitness stations, modern design clubhouse, very spacious open spaces for parks and playgrounds and a half-basketball court.
Aman Luxe (Phase 1)
Aman Classic (Phase 1)
Capri (Phase 1)
Bali Luxe (Phase 2)
Bali Classic (Phase 1)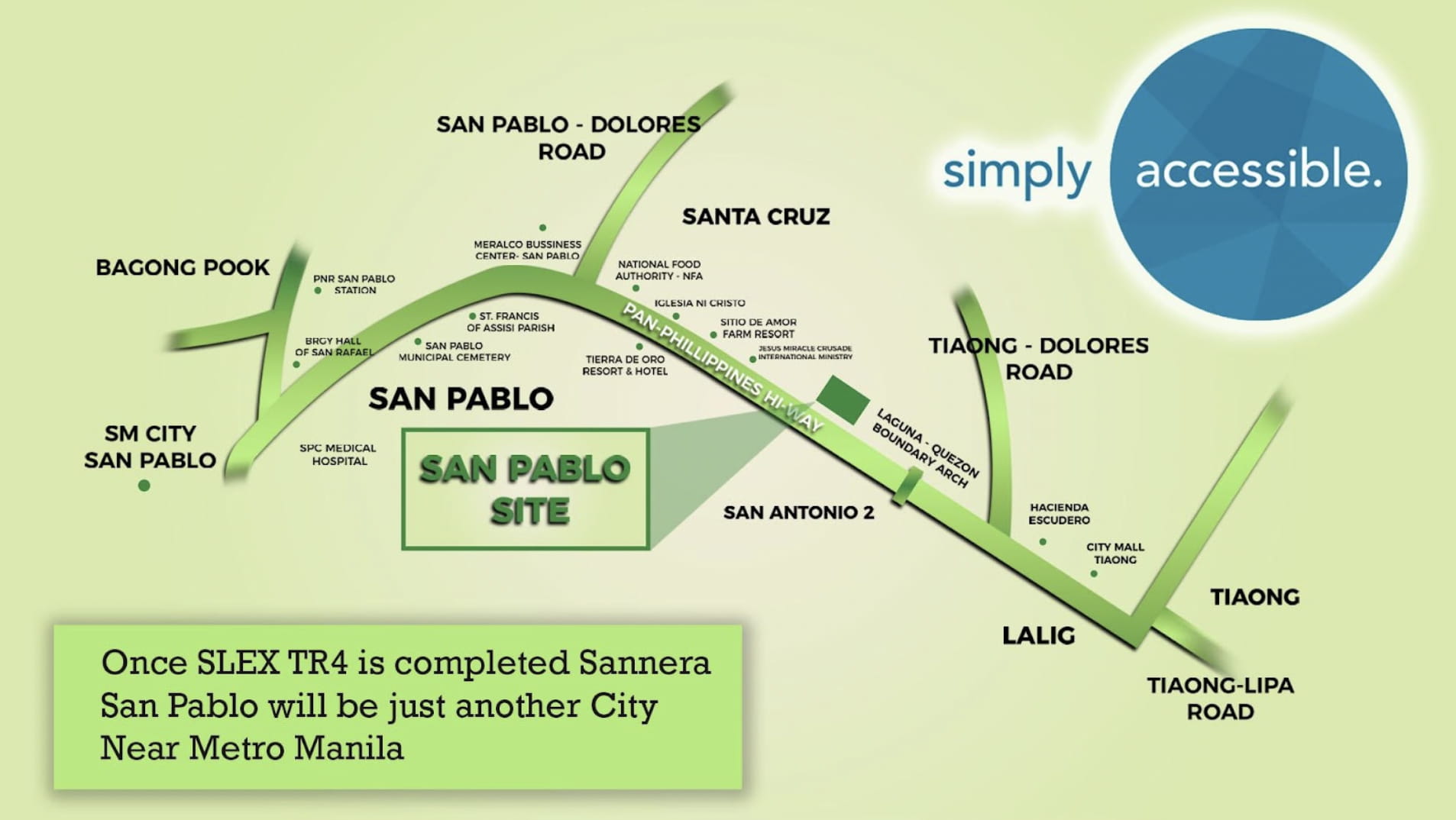 Brgy. San Antonio 2, San Pablo, Laguna
| | |
| --- | --- |
| Unit Type | Price Range |
| Aman Luxe | Sold Out |
| Aman Classic | Sold Out |
| Capri | ₱ 1.8M |
| Bali Luxe | ₱ 2.1M |
| Bali Classic | Pending |

ABOUT

MODEL UNIT

LOCATION

PRICE RANGE
Caliya is nestled at the heart of Candelaria, is a sprawling 9.7 hectares of gently rolling landscape carefully planned and meticulously designed to provide the comforts and convenience of a modern day neighborhood you will be proud to belong to and glad to call your home.
Townhouse Inner
Townhouse End
Duplex
Brgy. Masin, Candelaria, Quezon (Along National Highway)
| | |
| --- | --- |
| Unit Type | Price Range |
| Townhouse(Inner) | ₱ 1.7M |
| Duplex(2021, 2022) | ₱ 2.3M |

ABOUT

MODEL UNIT

LOCATION

PRICE RANGE
A gated community exclusive for the discerning few. With only 333 units in a sprawling 5.8 hectares, Terrazza de Sto. Tomas consists of 54% open spaces. Only 55 units per hectare means privacy, exclusivity and harmony. Master-planned to accommodate only Prime lot locations.
Terrazza de Sto. Tomas has enhanced amenities exclusively for the use of Terrazza homeowners only. A full service club house with a pool, multi-purpose hall, mini - soccer field and a basketball half-court.
Amore (Single Detached Unit)
Dolce (Duplex Units)
Bacci (Quad Units)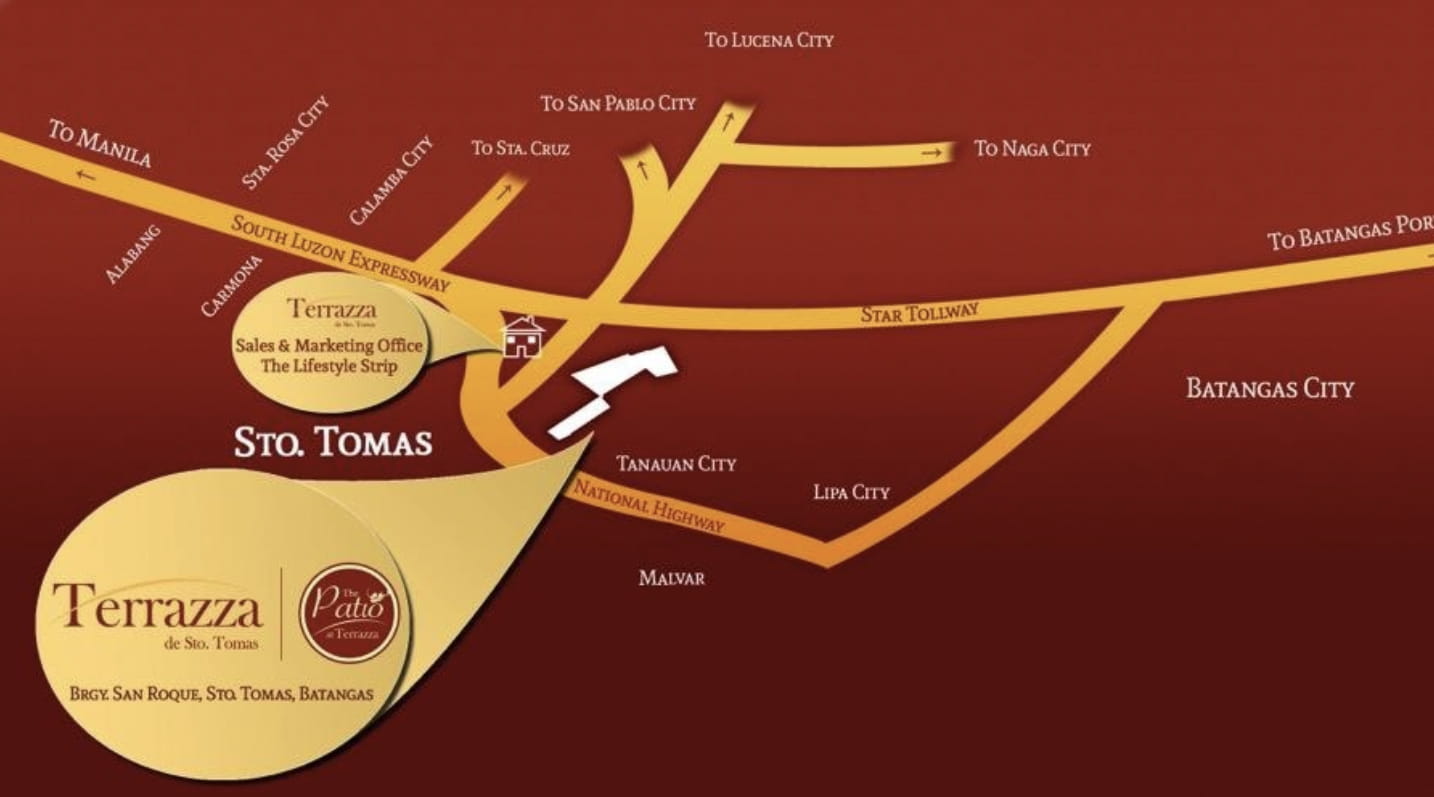 Terrazza de Sto. Tomas Brgy. San Roque, Sto. Tomas, Batangas
| | |
| --- | --- |
| Unit Type | Price Range |
| Amore (Single Detached Unit) | ₱ 3.4M - ₱ 3.5M |
| Dolce (Duplex Units) | ₱ 2.3M - ₱ 3M |
| Bacci (Quad Units) | ₱ 1.6M - ₱ 2.3M |

ABOUT

MODEL UNIT

LOCATION

PRICE RANGE
Santevi is the latest premier development of Ovialand in San Pablo, Laguna. Inspired by the modern Filipino family, Santevi is conveniently located along the highway, providing our clients easy access to all their needs while keeping the feeling of exclusivity and privacy. Inspired by modern French architecture, Santevi aspires to deliver to its homeowners the best lifestyle community in San Pablo.
Duplex
Single Detached
Townhouse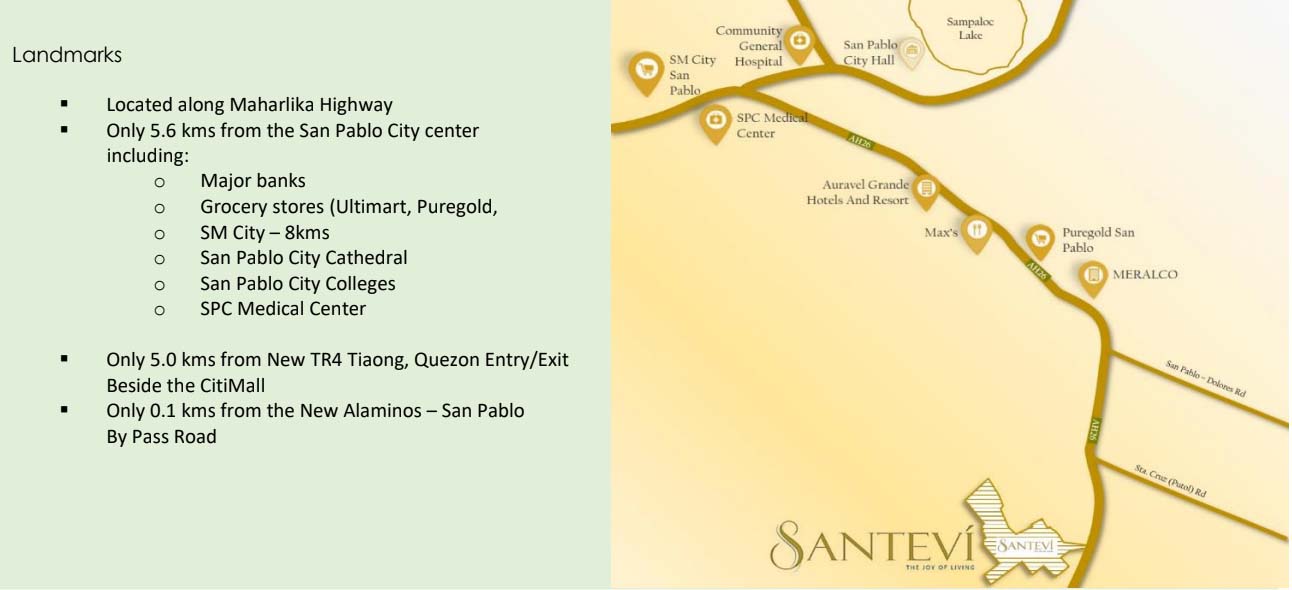 Located along Maharlika Highway
Pending
| | |
| --- | --- |
| Unit Type | Price Range |
| Amore (Single Detached Unit) | ₱ 3.4M - ₱ 3.5M |
| Dolce (Duplex Units) | ₱ 2.3M - ₱ 3M |
| Bacci (Quad Units) | ₱ 1.6M - ₱ 2.3M |
NEWS AND UPDATES
Keeping you in the loop on Ovialand, Inc. latest news, events, and other initiatives
OTHER WAYS TO CONTACT US:

2701 Parkway Corporate Center, Parkway Avenue, Filinvest, Alabang, Muntinlupa City, Metro Manila, Philippines

info@ovialand.com
investorrelations@ovialand.com
CONNECT WITH US
PLANNING TO PURCHASE?
Check out our Buyer's Guide here.
For any queries regarding your account. Send a ticket through this link